Saturday, April 08, 2006
AT&T provided National Security Agency eavesdroppers with full access to its customers' phone calls, and shunted its customers' internet traffic to data-mining equipment installed in a secret room in its San Francisco switching center, according to a former AT&T worker cooperating in the Electronic Frontier Foundation's lawsuit against the company.
Mark Klein, a retired AT&T communications technician, submitted an affidavit in support of the EFF's lawsuit this week. That class action lawsuit, filed in federal court in San Francisco last January, alleges that AT&T violated federal and state laws by surreptitiously allowing the government to monitor phone and internet communications of AT&T customers without warrants.
On Wednesday, the EFF asked the court to issue an injunction prohibiting AT&T from continuing the alleged wiretapping, and filed a number of documents under seal, including three AT&T documents that purportedly explain how the wiretapping system works.
According to a statement released by Klein's attorney, an NSA agent showed up at the San Francisco switching center in 2002 to interview a management-level technician for a special job. In January 2003, Klein observed a new room being built adjacent to the room housing AT&T's #4ESS switching equipment, which is responsible for routing long distance and international calls.
"I learned that the person whom the NSA interviewed for the secret job was the person working to install equipment in this room," Klein wrote. "The regular technician work force was not allowed in the room."
Klein's job eventually included connecting internet circuits to a splitting cabinet that led to the secret room. During the course of that work, he learned from a co-worker that similar cabinets were being installed in other cities, including Seattle, San Jose, Los Angeles and San Diego.
"While doing my job, I learned that fiber optic cables from the secret room were tapping into the Worldnet (AT&T's internet service) circuits by splitting off a portion of the light signal," Klein wrote.
The split circuits included traffic from peering links connecting to other internet backbone providers, meaning that AT&T was also diverting traffic routed from its network to or from other domestic and international providers, according to Klein's statement.
The secret room also included data-mining equipment called a Narus STA 6400, "known to be used particularly by government intelligence agencies because of its ability to sift through large amounts of data looking for preprogrammed targets," according to Klein's statement.
Narus, whose website touts AT&T as a client, sells software to help internet service providers and telecoms monitor and manage their networks, look for intrusions, and wiretap phone calls as mandated by federal law.
Klein said he came forward because he does not believe that the Bush administration is being truthful about the extent of its extrajudicial monitoring of Americans' communications.
"Despite what we are hearing, and considering the public track record of this administration, I simply do not believe their claims that the NSA's spying program is really limited to foreign communications or is otherwise consistent with the NSA's charter or with FISA," Klein's wrote. "And unlike the controversy over targeted wiretaps of individuals' phone calls, this potential spying appears to be applied wholesale to all sorts of internet communications of countless citizens."
After asking for a preview copy of the documents last week, the government did not object to the EFF filing the paper under seal, although the EFF asked the court Wednesday to make the documents public.
One of the documents is titled "Study Group 3, LGX/Splitter Wiring, San Francisco," and is dated 2002. The others are allegedly a design document instructing technicians how to wire up the taps, and a document that describes the equipment installed in the secret room.
In a letter to the EFF, AT&T objected to the filing of the documents in any manner, saying that they contain sensitive trade secrets and could be "could be used to 'hack' into the AT&T network, compromising its integrity."
According to court rules, AT&T has until Thursday to file a motion to keep the documents sealed. The government could also step in to the case and request that the documents not be made public, or even that the entire lawsuit be barred under the seldom-used State Secrets Privilege.
AT&T spokesman Walt Sharp declined to comment on the allegations, citing a company policy of not commenting on litigation or matters of national security, but did say that "AT&T follows all laws following requests for assistance from government authorities."
Friday, April 07, 2006
Bush Authorized Leak of CIA Agent's Name as Political Retaliation. "If anyone... is involved.... they would no longer be in my adminstration." ????
April 6th, 2006 2:53 pm
Libby: Bush OK'd Secret Intel Leak

(CBS/AP) Vice President Dick Cheney's former top aide told prosecutors that President Bush authorized the leak of sensitive intelligence information about Iraq, according to court papers filed by prosecutors in the CIA leak case.

Before his indictment, I. Lewis "Scooter" Libby testified to the grand jury investigating the CIA leak that Cheney told him to pass on information — and that it was Mr. Bush who authorized the disclosure, the court papers say.

According to the documents, the authorization led to the July 8, 2003, conversation between Libby and New York Times reporter Judith Miller.

In the past, Mr. Bush has denounced leaking to the media. For instance, in September 2003 during a speech in Chicago, Mr. Bush said of the Libby investigation, "Let me just say something about leaks in Washington. There are too many leaks of classified information in Washington. There's leaks at the executive branch; there's leaks in the legislative branch. There's just too many leaks.

"And if there is a leak out of my administration," Mr. Bush said, "I want to know who it is. And if the person has violated law, the person will be taken care of."

And last December, Mr. Bush denounced leaks to the New York Times regarding his domestic wiretap program.

"It was a shameful act for someone to disclose this important program in a time of war. The fact that we're discussing this program is helping the enemy," he said.

There was no indication in the filing that either Mr. Bush or Cheney authorized Libby to disclose Valerie Plame's CIA identity.

But the disclosure in documents filed Wednesday means that the president and the vice president put Libby in play as a secret provider of information to reporters about prewar intelligence on Iraq.

The authorization came as the Bush administration faced mounting criticism about its failure to find weapons of mass destruction in Iraq — the main reason the president and his aides had given for going to war.

CBS News' Beverley Lumpkin explains that while it is "well within the power of the president (and arguably the vice president as well) to declassify a government document unilaterally … this is not only embarrassing to the president and vice president in tying them to the dirty business. It's also very damaging to Scooter Libby's defense strategy that he was so busy he couldn't possibly have remembered knowing about Wilson and his wife."

According to interviews with the National Journal, two senior government officials in recent days said Libby has also asserted that Cheney authorized him to leak classified information to a number of journalists during the run-up to war with Iraq. In some instances, the information leaked was directly discussed with the Vice President, while in other instances Libby believed he had broad authority to release information that would make the case to go to war.

In yet another instance, the Journal reported that Libby had claimed President Bush authorized Libby to speak to and provide classified information to Washington Post assistant managing editor Bob Woodward for "Plan of Attack," a book written by Woodward about the run-up to the Iraqi war.

Libby's participation in a critical conversation with Miller on July 8, 2003, "occurred only after the vice president advised defendant that the president specifically had authorized defendant to disclose certain information in the National Intelligence Estimate," the papers by Special Counsel Patrick Fitzgerald stated. The filing did not specify the "certain information."

"Defendant testified that the circumstances of his conversation with reporter Miller, getting approval from the president through the vice president to discuss material that would be classified but for that approval, were unique in his recollection," the papers added.

Libby is asking for voluminous amounts of classified information from the government in order to defend himself against five counts of perjury, obstruction and lying to the FBI in the Plame affair.

He is accused of making false statements about how he learned of Plame's CIA employment and what he told reporters about it.

Her CIA status was publicly disclosed eight days after her husband, former U.S. Ambassador Joseph Wilson, accused the Bush administration of twisting prewar intelligence to exaggerate the Iraqi threat from weapons of mass destruction.

In 2002, Wilson had been dispatched to Africa by the CIA to check out intelligence that Iraq had an agreement to acquire uranium yellowcake from Niger, and Wilson had concluded that there was no such arrangement.

Libby says he needs extensive classified files from the government to demonstrate that Plame's CIA connection was a peripheral matter that he never focused on, and that the role of Wilson's wife was a small piece in a building public controversy over the failure to find WMD in Iraq.

Fitzgerald said in the new court filing that Libby's requests for information go too far and the prosecutor cited Libby's own statements to investigators in an attempt to limit the amount of information the government must turn over to Cheney's former chief of staff for his criminal defense.

According to Miller's grand jury testimony, Libby told her about Plame's CIA status in the July 8, 2003, conversation that took place shortly after the White House aide, according to the new court filing, was authorized by Mr. Bush through Cheney to disclose sensitive intelligence about Iraq and WMD contained in a National Intelligence Estimate.

The court filing was first disclosed by The New York Sun.

Thursday, April 06, 2006
Prosecutor says Cuyahoga skirted rules
Thursday, April 06, 2006
Joan Mazzolini
Plain Dealer Reporter
After the 2004 presidential election, Cuyahoga County election workers secretly skirted rules designed to make sure all votes were counted correctly, a special prosecutor charges.
While there is no evidence of vote fraud, the prosecutor said their efforts were aimed at avoiding an expensive - and very public - hand recount of all votes cast. Three top county elections officials have been indicted, and Erie County Prosecutor Kevin Baxter says more indictments are possible.
Michael Vu, executive director of the Cuyahoga County elections board, said workers followed procedures that had been in place for 23 years. He said board employees had no objection to doing an exhaustive hand count if needed, meaning they had no motive to break the law.
Internet bloggers have cried foul since 2004 about election results in Ohio, one of the key states in deciding the election. They have been tracking Baxter's investigation with online posts about the indictments.
Baxter's prosecution centers on Ohio's safeguards for ensuring that every vote is counted.
Baxter charges that Cuyahoga election workers - mindful of the monthlong Florida recount in 2000 - not only ignored the safeguards but worked to defeat them during Ohio's 2004 recount.
Candidates for president from the Green and Libertarian parties requested the Ohio recount. State laws and regulations specify how a recount works.
Election workers in each county are supposed to count 3 percent of the ballots by hand and by machine, randomly choosing precincts for that count.
If the hand and machine counts match, the other 97 percent of the votes are recounted by machine. If the numbers don't match, workers repeat the effort. If they still don't match exactly, the workers must complete the recount by hand, a tedious process that could take weeks and cost hundreds of thousands of dollars.
But the fix was in at the Cuyahoga elections board, Baxter charges.
Days before the Dec. 16 recount, workers opened the ballots and hand-counted enough votes to identify precincts where the machine count matched.
"If it didn't balance, they excluded those precincts," Baxter said.
"The preselection process was done outside of any witnesses, without anyone's knowledge except for [people at] the Board of Elections."
On the official recount day, employees pretended to pick precincts randomly, Baxter says. Dozens of Cuyahoga County election workers sat at 20 folding tables in front of dozens of witnesses and reporters.
They did the hand and machine count of 3 percent of the votes 34 of the 1,436 precincts and when the totals matched, the recount was completed by machines.
The recount gave Kerry 17 extra votes and took six away from Bush.
But observers suspected that the precincts were not randomly chosen and asked a board worker about it, said Toledo attorney Richard Kerger. The worker acknowledged that there had been a precount.
Kerger wrote a letter to Cuyahoga County Prosecutor Bill Mason, complaining and asking for an investigation. Mason recused himself, and Baxter was appointed special prosecutor. He brought elections workers before a grand jury to find out what happened.
"They screwed with the process and increased the probability, if not the certainty, that there would not be a full countywide hand count," Baxter said.
Everyone expected the recount to "be conducted in accordance of the law," he said.
Vu said the precincts were chosen as they had been in the past, by a Democrat and a Republican in the ballot department.
Because of Baxter's investigation, Vu declined to comment on whether the board's longtime procedures involve precounting precincts before the recount.
Vu acknowledged that the selection of precincts was not completely random because precincts with 550 votes or fewer were not used.
Nor were precincts counted where the number of ballots handed out on Election Day failed to match the number of ballots cast.
Vu said the board also had asked for legal opinions from the prosecutor's office before and after the election to ensure all rules were followed.
Kathleen Martin, who headed the civil division at the prosecutor's office and worked with the board on the issues, has since died.
"If Kathleen Martin was still alive, she could put so much light on this," Vu said.
Regardless, he said, the board was prepared for a full hand recount.
"Why do all that work to prepare for the election, conduct it, audit it, canvass and then not meet this last obligation?" Vu said.
"Our plan was to regroup after Christmas and just work through it."
Baxter has said he can't understand why the three people indicted all managers - continue to work at the election office. None has the same duties they had in 2004.
Kathleen Dreamer was manager of the board's ballot department. Rosie Grier was assistant manager. Jacqueline Maiden was Elections Division director and its third-highest-ranking employee. All have been charged with misdemeanor and felony counts of failing to follow the state elections law.
A May 8 trial date is set for Dreamer and Grier, but Baxter wants to combine all three cases, including Maiden's, who was indicted later.
Kerger said he was surprised by the charges.
"We wrote, not to have any criminal charges, but just to find out what happened," he said. "The special prosecutor has the ability to conduct an investigation and not file any charges."
Kerger said he believes there are two reasons, generally, why an elections board would precount before a recount. The first is to change the results of the vote, which he does not believe happened.
The second, he speculated, was that "the workers were so tired and didn't want to hassle with doing a hand recount."
A fitting Tribute to "The Hammer" The Ob Repor would also like to say farewell Tommy, you Turd.
He's Gone
By William Rivers Pitt
t r u t h o u t | Perspective
Tuesday 04 April 2006
Rat in a drain ditch,
Caught on a limb,
You know better
But I know him.
Like I told you,
What I said,
Steal your face
Right off your head.
Now he's gone, gone,
Lord he's gone, he's gone.
Like a steam locomotive,
Rollin' down the track
He's gone, gone,
Nothing's gonna bring him back.
He's gone.
- The Grateful Dead, "He's Gone"
Stone the crows. Tom DeLay is checking out.
"I'm going to announce tomorrow that I'm not running for reelection and that I'm going to leave Congress," said DeLay on Monday. "I'm very much at peace with it."
Never thought I'd live to see the day.
In 1988, DeLay gave a press conference in Texas to defend the military record of Dan Quayle, who had been tapped to accompany George H. W. Bush on the Republican presidential ticket. Quayle was under fire for having allegedly used family influence to secure him a safe spot in the Indiana National Guard, thus keeping him out of Vietnam. DeLay argued that Quayle's failure to serve in Vietnam was not his fault; he wanted to go, but minorities had taken all the available slots.
Seriously, he said that.
This is the man who once said, in a debate about the minimum wage, "Emotional appeals about working families trying to get by on $4.25 an hour are hard to resist. Fortunately, such families do not exist."
This is the man who once said, in a speech to bankers delivered eight days before the 2003 invasion of Iraq, "Nothing is more important in the face of a war than cutting taxes."
This is the man who once said, to a government employee who was trying to stop him from smoking on government property, "I am the federal government."
This man is gone now. After being indicted in Texas for campaign finance violations arising from his redistricting scheme, after surviving a tight primary challenge while staring down the barrel of a well-financed Democratic challenger, after watching his press secretary Michael Scanlon and his deputy chief of staff Tony Rudy cop pleas in the Jack Abramoff scandal investigation, after watching Rudy specifically accuse his chief of staff Ed Buckham of being neck-deep in the scandal in his plea confession, after sitting up nights wondering if the Abramoff scandal was going to land him in prison, DeLay decided enough was enough.
Time Magazine, which carried one of the first reports of his decision to step down, has DeLay adamantly denying any wrongdoing. "Asked if he had done anything illegal or immoral in public office," read the report by Mike Allen, "DeLay replied curtly, 'No.' Asked if he'd done anything immoral, he said with a laugh, 'We're all sinners.'"
It was the Democratic party that did this to him, of course. Wait, sorry. It was the "Democrat" party.
"I guarantee you," continued DeLay in the report, "if other offices were under the scrutiny I've been under in the last 10 years, with the Democrat Party announcing that they're going to destroy me, destroy my reputation, and that's how they're going to get rid of me, I guarantee you you're going to find, out of hundreds of people, somebody that's probably done something wrong."
That's right, Tom. It was the Democrat party, that awesome juggernaut of competence, which has shown time and again lo these past few years its Zeus-like ability to hurl devastating political lightning bolts from its lofty position, that took you down. They can stand up next to a mountain, so I hear, and chop it down with the edge of their hand.
Or maybe, Tom, just maybe, all this happened because you are the living embodiment of absolutely everything wrong in American politics. Forget your ideology, and your hateful divisiveness, and your shameless canoodling with the Taliban wing of fundamentalist Christianity. One cannot swing a cat by the tail in Washington DC these days without smacking someone who thinks the way you do. This doesn't make you unique, sadly.
No, your criminal misuse of the campaign funding laws, your outright disdain for the rules if they keep you from assuming absolute control, your almost Zen-like ability to operate beyond the confines of conscience and dignity, is why your presence has been a cancer on the body politic since the day you put down your bug extermination gear and tried a power tie on for size, and is why you're finished now. How deeply were you in the pocket of your contributors? You took an R.J. Reynolds corporate jet to get to your arraignment. There has to be some kind of award somewhere for behavior so brazenly craven.
It is hard to avoid a sense that something like justice, true justice, real justice, has been well served by the manner in which Tom DeLay has been laid low. Politics is a little cleaner today. Not a lot, maybe not even enough for folks to notice, but it is indeed just a little bit cleaner, now that he's gone.
Fuck Ann Coulter. I don't feel sorry for her. Not even almost.
Editor's Note: Here's Al blogging about his debate with Ann. For the record you can read his entire opening remarks on the previous blog entry.

Al Franken-

Last May, as I left the stage after debating Ann Coulter in Hartford, my wife Franni took me aside and whispered: "The poor thing."

Last Monday, after my debate with Coulter at the Universal Amphitheatre in L.A., there was no sympathy from Franni. Just a strong sense of disgust. Because Coulter had chosen a strange strategy. Offend the audience and then act the victim.

The event was part of a lecture series sponsored by the University of Judaism. The previous debate had featured Newt Gingrich and John Edwards before a crowd of about 5000 subscribers. About 5500 had gathered for me and Ann. The extra five hundred presumably were fans of mine and of Ann's.

Before the debate, there was a dinner for about 75 sponsors – mainly middle-aged-to- older Jewish couples. Between dinner and dessert Ann and I were to each make three minutes of remarks. I had planned to open with my usual at such Jewish events: "I'm going to start by answering the question I've been asked most tonight – Yes, I've had enough to eat."

But Ann went first, and set her tone for the entire evening. "It was fascinating being here for the demonstrations this weekend," she said with a snotty Darien sneer. "I guess that's why I didn't get clean towels in my hotel room this morning."

There was an audible gasp from the Jews. Ann continued: "I haven't seen so many agitated Mexicans since the World Cup Soccer Games were in L.A." As offended as the diners were, the waiters were pissed. Ann was actually dumb enough to drink her coffee afterwards.

I answered by saying that I hadn't seen so many agitated Mexicans since 1846 when James K. Polk invaded Mexico because he thought Santa Ana had weapons of mass destruction. I wasn't sure of the year, but I thought the different approaches to our "agitated Mexican" jokes might give everyone an idea of what to expect.

Fortunately, the debate had something of a formal structure to it. I led off with a twenty minute speech in which I eviscerated Ann, followed by her twenty minutes in which she defended herself by saying she was a flawed person and then proceeded to accuse Democrats of being traitors.

Then there was about an hour with the president of the university leading a discussion during which she lost everyone but her most dedicated fans, of which there were maybe fifty by the end of the evening. At one point, when I was talking about making sure our returning veterans got proper medical care, one of her nutcase followers yelled, "Boring!"

Anyway, I'm kind of proud of my opening statement. I put it on the website of my new political action committee, Midwest Values PAC

Wednesday, April 05, 2006
An Evening with Ann Coulter: Opening Statement

COULTER DEBATE OPENING STATEMENT – UNIVERSITY OF JUDAISM

Thank you. First of all, I know I join Ann in thanking the University of Judaism for hosting this event. We've had an opportunity to spend some time with President Wexler and have dinner with many folks from the University community.

And I'd like to answer the question that I actually get asked the most when I do an event for a Jewish organization. Yes, I had enough to eat.

You know, in these kinds of debate forums, someone has to go first. It's always preferable to go second, because you can react to what's been said, giving you something of a tactical advantage. More importantly, it pretty much spares you the chore of writing out pre-prepared remarks.

Both Ann and I said we preferred going second, but I didn't insist on it, because I understood somebody had to go first. And being a liberal, I just wasn't tough-minded enough to insist on a coin toss.

So, I'll try to use my time to define the terms of the debate – if you will. "Whence Judaism?"

No. I think we should talk about the Bush Administration and the Republican Congress and what it has accomplished over the past five years. I'm talking, of course, about well over two trillion dollars added to the national debt, the increase in poverty in our country and the added millions of Americans, including children, without health insurance. I'm talking about the sale of our democracy to corporate interests that pollute our water and our air. I'm talking about the widening gap between the haves and the have nots in this country. And I'm talking about the war in Iraq.

I'm talking about an increasingly corrupt, secretive, and incompetent federal government that rewards cronies, a Republican majority in Congress that's acted as a rubber stamp, that has performed virtually no oversight and which excludes the minority party from the legislative process in a way unprecedented in our recent history.

I also want to discuss with Ann the coarsening of dialogue in this country. I want to discuss values with Ann. Values like love, of family, of your fellow man, of country. Ann has said repeatedly that liberals hate America. I disagree.

Last year I had the honor of speaking at West Point. It was an audience not so very different from this one. Except that instead of you, the audience was made up of about twelve hundred cadets. Many of whom will be going to Iraq in the next year or so.

The occasion was the Sol Feinstone Lecture on the Meaning of Freedom endowed by philanthropist Sol Feinstone. It's an annual event and Sol Feinstein's granddaughter, who is about my age, attended.

After telling a number jokes and getting the cadets on my side. I told them that we had been lied into the war in Iraq. I had just published a book entitled The Truth (with jokes), and I told the cadets that you can't have freedom without the truth. You can have freedom without jokes, as has been proven by the Dutch and the Swiss.

I proceeded to prove that we had been lied into war, citing example after example of President Bush, Vice President Cheney, Defense Secretary Rumsfeld, and Condi Rice, who had been National Security Advisor in the lead-up to the war, telling the public information that they knew not to be true.

At the end of the speech I received a standing ovation from the cadets. Sol Feinstone's granddaughter told me she had gone to every lecture for the last thirty or so years, and that I received only the second standing ovation. The other was for Max Cleland, who lost both legs and an arm in Vietnam.

By the way, Ann has written that Max Cleland was lucky to have lost his legs and his arm in Vietnam. I disagree. More importantly, I know Max, and he disagrees.

I believe I received the standing ovation because the cadets knew that I was speaking from the heart, and that the information I had given them was all true. And as I said, you can't have freedom without the truth.

You can't have good government without the truth. During the crafting and passage of the Medicare prescription drug bill, the chief actuary of Medicare was told to withhold from Congress the true cost of the bill. He'd be fired if he told the truth.

The bill costs so much, in large part, because the bill prohibits Medicare from negotiating with the pharmaceutical companies on the price of drugs. As a result, seniors now pay on average 44% more than veterans getting the same drugs through the VA which is allowed to use its size to negotiate with the drug companies. To get the bill passed, the vote was held open for three hours. Tom DeLay was later admonished by Republicans on the ethics committee for attempting to bribe, and then extort, Republican Nick Smith of Michigan to get him to change his vote. The chairman of the Commerce Committee Billy Tauzin who ushered the legislation through, soon left Congress for a two million dollar a year job as the chief lobbyist for the pharmaceutical industry. Obviously, a complete coincidence.

During the 2000 campaign George Bush ran for president by saying repeatedly, and I quote, "by far the vast majority of my tax cut goes to those at the bottom." Of course, nothing could be further from the truth.

In fact, the president continues to ask for and sign tax cuts that go primarily to those at the top. By the way, until George W. Bush, our country had never cut taxes during a time of war.

As a result, our deficits grow and the cuts – in Medicaid, Pell Grants, food stamps, low-income housing subsidies, community block grants – are targeted at the poorest in our society.

George W. Bush famously said that Jesus was his favorite political philosopher. Frankly, I don't get it.

I'm Jewish. Thank you. I'm not an expert on the New Testament. But I know that if you cut out all the passages where Jesus talks about helping the poor, helping the least among us, if you literally took a pair of scissors and cut out all those passages, you'd have the perfect box to smuggle Rush Limbaugh's drugs in.

I don't understand when the Christian right says that equal rights in marriage threatens marriage. I've been married 30 years, many of them happy. I don't think that if my wife and I were walking around in Boston, where we met, if we saw two men holding hands with wedding bands… I don't think I'd say "Hey, that looks good. Y'know, honey, you don't like watching football on Sundays. Maybe I could marry a guy, watch football with him, and then if I wanted to have sex, I could come over and have sex with you."

I was just talking to Newt Gingrich the other day. And I said to him, "Don't you want for a gay couple what you had with your first wife? Don't you want that bond that comes with the pledge of fidelity that you had with your second wife? Don't you want what comes with that lifelong bond that you may or may not have with your third wife – I have no idea what's going on there."

You know, Bill O'Reilly always talks about his "traditional values" – as opposed to "the far left's secular humanist values." I didn't realize phone sex was a traditional value. I didn't think the phone had been around long enough. Maybe telegraph sex.

In her book Slander, Ann referred to Democrats and our "Marquis de Sade lifestyle." I've been married for thirty years. Ann, you're an attractive woman. And I know you support the president's abstinence-only sex education. I want to congratulate you for saving yourself for your one true love.

When my daughter was six years old, her teacher asked all her students to write about how their parents had met. We told Thomasin that we met at a mixer freshman year of college. I saw Franni across the room, gathering up some friends to leave. I liked the way she was taking control and I thought she was beautiful. So I asked her to dance, and then got her a ginger ale, then escorted her to her dorm and asked for a date.

My daughter wrote, "My dad asked my mom to dance, bought her a drink, and then took her home." Now all the facts were accurate, but what my daughter wrote was extremely misleading. Now my daughter wasn't lying. She didn't realize that what she wrote made her mom seem like a slut.

Ann, however, is not six years old. And she has developed her own techniques for misleading, by leaving out important facts. Let me give you an example of Ann lying by omission.

Also in her book Slander, Ann tells her readers that Al Gore had a leg up on George W. Bush when applying to their respective colleges. Harvard and Yale. Ann writes:

"Oddly, it was Bush who was routinely accused of having sailed through life on his father's name. But the truth was the reverse. The media was manipulating the fact that – many years later – Bush's father became president. When Bush was admitted to Yale, his father was a little-known congressman on the verge of losing his first Senate race. His father was a Yale alumnus, but so were a lot of other boys' parents. It was Gore, not Bush, who had a famous father likely to impress college admissions committees."

What does Ann omit? Well, that Bush's grandfather Prescott Bush was also a Yale alum and had been Senator from Connecticut, the home state of Yale University. That Prescott Bush had been a trustee of Yale. That Prescott Bush had been the first chair of Yale's Development Board – the folks who raise the money. That Prescott Bush sat on the Yale Corporation for twelve years. That Prescott Bush, like George W. Bush's father, George H. W, Bush, had been a member of Skull and Bones. That the first Bush to go to Yale was Bush's great great grandfather James Bush, who graduated in 1844. That in addition to his father, grandfather, and greatgreatgrandfather, Bush was the legacy of no less than twenty-seven other relatives who preceded him at Yale, including five great great uncles. Seven great uncles. Five uncles, and a number of first cousins.

Now why did Ann leave out these somewhat relevant facts? Ann grew up in Connecticut. Ann, did you really not know that Prescott Bush had been your senator when you were born?

Ann, is it possible that when Prescott's son George H. W. Bush became president, it totally escaped your notice that his father had represented your state in the United States Senate? Did neither of your parents mention it in passing at the dinner table? Did no one at home in Darien make any comments about the new president's lineage?

Understand. This isn't sloppiness. This is deliberate. For Ann's purposes – to claim that the media that was manipulating facts here – Ann herself had to manipulate facts – in such a shameless way. This is what she does.

And she does it over and over and over again.

Let me give you another example.

On page 265 of her book Treason, Ann writes of Tom Friedman, the New York Times columnist. "He blamed twenty years of relentless attacks by Muslim extremists on- I quote – 'religious fundamentalists of any stripe.'"

This didn't sound like Tom Friedman to me, so I found the one Friedman column that contained that phrase – "religious fundamentalists of any stripe." It was from a December 26, 2001 column called "Naked Air," about an airline where everyone would fly naked. "Think about it," Friedman writes, tongue firmly planted in cheek, "If everybody flew naked, not only would you never have to worry about the passenger next to you carrying box cutters or exploding shoes, but no religious fundamentalists of any stripe would ever be caught dead flying nude."

Let me repeat. Ann wrote of Tom Friedman, Jewish by the way, that "he blamed twenty years of relentless attacks by Muslim extremists on – I quote – 'religious fundamentalists of any stripe.'" She bothered to put "I quote" in there for emphasis.

Friedman actually wrote "no religious fundamentalists of any stripe would ever be caught dead flying nude" in service of a conceit that illustrated our dilemma of either becoming less open as a society or learning to live with much higher risks than we've ever been used to before.

Friedman was not blaming 9/11 on the Lubavichers, as Ann suggests.

Now this sort of deliberate misrepresentation contributes to a coarsening of our nation's dialogue. Ann recently told an audience:

"We need somebody to put rat poisoning in Justice Stevens' creme brulee," Coulter said. "That's just a joke, for you in the media."

Here's my question. What's the joke? Maybe it's a prejudice from my days as a comedy writer, but I always thought the joke had to have an operative funny idea. I'll give you an example of a joke.

Like they do every Saturday night, two elderly Jewish couples are going out to dinner. The guys are in front, the girls riding in back. Irv says to Sid, "Where should we go tonight?"

Sid says, "How about that place we went about a month ago. The Italian place with the great lasagna."

Irv says, "I don't remember it."

Sid says, "The place with the great lasagna."

Irv says, "I don't remember. What's the name of the place?"

Sid thinks. But can't remember. "A flower. Gimme a flower."

"Tulip?" Irv says.

"No, no. A different flower."

"Magnolia?"

"No, no. A basic flower."

"Orchid?"

"No! Basic."

"Rose?"

That's it! Sid turns to the back seat. "Rose. What was the name of that restaurant…?"

That's a joke. What exactly is the joke in "We need somebody to put rat poisoning in Justice Stevens' creme brulee?" Is it the crème brulee? Is that it? Because Stevens is some kind of Francophile or elitist? Is it the rat poison? See, I would have gone with Drano. I'm really trying here, Ann. Please, when you come up, explain the joke about murdering an associate justice of the Supreme Court. One who by the way, was appointed to the Supreme Court by Gerald Ford, and who, also, by the way, won a Bronze Star serving in the Navy in World War II. What is the joke? 'Cause I don't get it.

Now in Ann's defense, she doesn't always make horribly offensive remarks or knowingly craft lies. Very often Ann is just wrong out of ignorance or pure laziness. Take this from the MSNBC Show – Saturday Final – on August 30, 2003 – MSNBC. She is talking about how well the war in Iraq is going.

COULTER: I think the rebuilding is going extremely well. Douglas MacArthur was in Japan five years after V.J. Day. There were enormous casualties in Germany after World War II. The rebuilding is actually going quite well compared to past efforts. And really, all we're getting from Democrats is constant carping.

Ann, do you know how many combat fatalities the American military had in Germany after V-E day? Zero. You know how many in Japan after V-J day? Zero.

Ann and I have debated once before. In May of 2004, and Ann still felt the war was going amazingly well. Let me quote her from that debate:

"…. This war is going amazingly well… the casualty rate is incredibly small for the rebuilding. It is going better than can be expected. You cannot read about how well things are going against Al Sadr, where you have Iraqis protesting against Al Sadr; all these stories about how Al Sadr had (this) vast support among the Iraquis… oh no no no. They recently held a protest march saying, 'Al Sadr, get out.'"

As you know, Ann, Moktadr al Sadr, recently picked the Shiite choice for prime minister for the new government, Mohamed al Jafaari. Sadr has thirty-two seats in the Iraqi assembly compared to Ahmed Chalabi's zero. And remember, it was Chalabi to whom we were going to turn over the Iraqi government.

Things are not going amazingly well in Iraq. And they haven't been going amazingly well since we allowed the looting of Baghdad. A week ago, former prime minister Ayad Allawi said that Iraq was already in a civil war. And as George Bush said in September of 2004, we should listen to Allawi because – and I quote – "he understands what's going on there – after all, he lives there."

The first thing this Administration needs to do in Iraq is to start acknowledging the truth and level with the American people.

I think the one lesson we can all agree on from Vietnam is that we cannot blame the troops. By and large, the vast, vast majority of our troops have performed heroically. And they deserve our gratitude and support. And that means supporting them after they've come home.

Two thirds of the wounded in Iraq now have brain injuries. That's because so many of the casualties are from IED's, and the injuries are concussive and not ballistic. Each one of those brain injuries is going to cost a million dollars over the course of that veteran's life. And we need to fund programs for those who come back with post traumatic stress disorder – a higher percentage than in any previous war.

Now another value I believe in is love of country. For some reason it rankles Ann that I've done six USO tours and have had the nerve to talk about it. I do so because I want people to be aware of the work that the USO does. I want anyone here today who is a Hollywood celebrity to think about giving up a couple weeks of your life to entertain our men and women in uniform. I think it rankles Ann that I've talked about going on the USO tours because she can't conceive that anyone would actually do something for anyone else. I didn't go to Iraq to prove that Democrats are patriotic, Ann. I did my first USO tour in 1999, when Clinton was president. We went to Kosovo, a war that was vehemently and vocally opposed by many Republicans. Even so, we didn't call them traitors. I was invited by the USO to go to Iraq because they know I do a good job and that it means a lot to the troops when anyone comes over to show them we care.

My daughter is 25. She teaches inner city kids in the Bronx. And that makes me proud. She hates when I say it, and that makes me even more proud.

My son is an engineering student. He wants to build fuel efficient cars. He's a junior in college and got a job at Ford this summer working on a new manufacturing process for power trans. I don't know what that means either. But he got there because he works his butt off.

But my son doesn't feel that he got where he is because he is some kind of rugged individual. That he did it all himself. He knows that he stands on the shoulders of those who stood on the shoulders of those who stood on the shoulders of those who stood on the shoulders of those who stood on the necks of Indians.

My wife and I tried to instill certain values in our kids. But we don't love them because they're perfect. We love them because they're decent, loving kids. Kids who care about others and care, by the way, about the truth.

One last thing. Speaking of the truth. A few months after my last debate with Ann, the following appeared in a New York Observer story about Ann. From the September 13, 2004 issue..

The writer asks Ann in the article:

"She debated Al Franken recently?

"'Yes,' she said. 'It's not an interesting debate, because liberals can't argue. So it's never like point-counterpoint; all we do is hear about his fucking U.S.O. tours for three hours. Excuse my French.'"

Ann, let's see if we can have a point-counterpoint, and an interesting debate. And by the way, Ann, I have here a DVD of that entire three hour debate – And I'll bet you my speaking fee tonight that I spoke about my USO tours for less than a grand total of three minutes. How about it Ann? My speaking fee against your speaking fee?

I mean we care about the truth, don't we?

By Karen Rouse
Denver Post Staff Writer
The student whose recording of an Overland High School teacher's lecture triggered national debate on academic freedom will be honored this week in Washington, D.C.
Sean Allen, a former Overland student who now attends Cherry Creek High School, will receive an award for "courage" from the Students for Academic Freedom at a conference, said Sara Dogan, national campus director for the group.
Also, Allen will participate in a news conference Friday with David Horowitz, a conservative author affiliated with the group.
Allen in early February recorded a lecture by Overland teacher Jay Bennish during a geography class. During the 20-minute recording, Bennish made comments critical of U.S. foreign policies and compared President Bush to Adolf Hitler. Dogan described Bennish's remarks as a form of "indoctrination."
Bennish, who had been placed on paid leave during a district investigation, has said he was trying to provoke critical thinking among students in the class. He was permitted to return to Overland.
Allen on Tuesday said he was "stunned and overcome" when he learned the Students for Academic Freedom wanted to honor him. "It's humbling," said Allen, who has been enrolled at Cherry Creek for two weeks.
The conference will also feature a debate between Horowitz and controversial University of Colorado professor Ward Churchill.
According to the conference website, the debate topic will be "Can Politics Be Taken Out of the Classroom, and Should It Be?"
Tom DeLay: A Republican With an Exit Strategy.
"Indicted former Republican Majority Leader Tom DeLay resigned yesterday," said Jay Leno as part of his Tonight Show monologue. "People were shocked! A Republican with an exit plan."

Actually, said Leno, "they were just amazed he was going to pay for his own vacation."

Tuesday, April 04, 2006
University professors denounced for anti-Americanism; schoolteachers suspended for their politics; students encouraged to report on their tutors. Are US campuses in the grip of a witch-hunt of progressives, or is academic life just too liberal? By Gary Younge
Tuesday April 4, 2006
The Guardian
After the screenwriter Walter Bernstein was placed on the blacklist during the McCarthyite era he said his life "seemed to move in ever-decreasing circles". "Few of my friends dropped away but the list of acquaintances diminished," he wrote in Inside Out, a memoir of the blacklist. "I appeared contaminated and they did not want to risk infection. They avoided me, not calling as they had in the past, not responding to my calls, being nervously distant if we met in public places."
As chair of African American studies in Yale, Paul Gilroy had a similar experience recently after he spoke at a university-sponsored teach-in on the Iraq war. "I think the morality of cluster bombs, of uranium-tipped bombs, [of] daisy cutters are shaped by an imperial double standard that values American lives more," he said. "[The war seems motivated by] a desire to enact revenge for the attacks on the World Trade Centre and the Pentagon ... [It's important] to speculate about the relation between this war and the geopolitical interests of Israel."
"I thought I was being extremely mealy-mouthed, but I was accused of advocating conspiracy theories," says Gilroy, who is now the Anthony Giddens professor of Social Theory at the London School of Economics.
Scot Silverstein, who was once on the faculty at Yale, saw a piece in the student paper about Gilroy's contribution. He wrote to the Wall Street Journal comparing Gilroy to Hitler and claiming his words illustrated the "moral psychosis and perhaps psychological sadism that appears to have infected leftist academia". The Journal published the letter. Gilroy found himself posted on Discoverthenetworks.org, a website dedicated to exposing radical professors. The principle accusation was that he "believes the US fabricated the threat posed by Saddam Hussein".
Then the emails started coming to him and his colleagues, denouncing him. "Only one person said anything," says Gilroy. "Otherwise, nobody looked me in the eye. There was something about the way it never came up that made me realise how nervous and apprehensive they were."
Few would argue there are direct parallels between the current assaults on liberals in academe and McCarthyism. Unlike the McCarthy era, most threats to academic freedom - real or perceived - do not, yet, involve the state. Nor are they buttressed by widespread popular support, as anticommunism was during the 50s. But in other ways, argues Ellen Schrecker, author of Many Are the Crimes - McCarthyism in America, comparisons are apt.
"In some respects it's more dangerous," she says. "McCarthyism dealt mainly with off-campus political activities. Now they focus on what is going on in the classroom. It's very dangerous because it's reaching into the core academic functions of the university, particularly in Middle-Eastern studies."
Either way, a growing number of apparently isolated incidents suggests a mood which is, if nothing else, determined, relentless and aimed openly at progressives in academe.
Earlier this year, Fox news commentator Sean Hannity urged students to record "leftwing propaganda" by professors so he could broadcast it on his show. On the web there is Campus Watch, "monitoring Middle East studies on campus"; Edwatch, "Education for a free nation"; and Parents Against Bad Books in School.
In mid January, the Bruin Alumni association offered students $100 to tape leftwing professors at the University of California Los Angeles. The association effectively had one dedicated member, 24-year-old Republican Andrew Jones. It also had one dedicated aim: "Exposing UCLA's most radical professors" who "[proselytise] their extreme views in the classroom".
Shortly after the $100 offer was made, Jones mounted a website, uclaprofs.com, which compiled the Dirty 30 - a hit list of those he considered the most egregious, leftwing offenders. Top of the list was Peter McLaren, a professor at the UCLA's graduate school of education. Jones branded McLaren a "monster". "Everything that flows from Peter McLaren's mouth and pen is deeply, inextricably radical," wrote Jones. "In keeping with the left's identity politics he has been a friend to the gay community."
McLaren was shocked. "I was away when the story broke and when I came back there were 87 messages waiting for me. I was surprised a list like that could be created in these times. I thought, 'Wow, somebody's out there reading my work fairly carefully.'" The main impact, he says, was to try to insulate those close to him from the fallout. "I had to take down lots of things from my website - family pictures and contacts with other people. I didn't want other people to pay the price."
Also among the Dirty 30 was history professor Ellen DuBois. She was described as, "in every way the modern female academic: militant, impatient, accusatory and radical - very radical". DuBois told the Los Angeles Times, "This is a totally abhorrent invitation to students to participate in a witch hunt against their professors."
McLaren, who describes himself as a marxist-humanist, agrees. He believes the list was a McCarthyite attack on academe, with the aim of softening up public hostility for a more propitious moment: "This is a low-intensity campaign that can be ratcheted up at a time of crisis. When there is another crisis in this country and this country is in an ontological hysteria, an administration could use that to up the ante. I think it represents a tendency towards fascism."
Six weeks after Jones released his list, two Los Angeles county sheriffs arrived unannounced at Professor Miguel Tinker-Salas's office at Pomona College and started asking questions. Tinker-Salas, a Latin American history professor, was born in Venezuela and is a vocal critic of US policy in the region. The sheriffs, part of a federal anti-terrorism task force, told him that he was not the subject of an investigation. Then, for the next 25 minutes they quizzed him on whether he had been influenced in any way by or had contact with the Venezuelan government, on the leadership within the local Venezuelan community, the consulate and the embassy. Then they questioned his students about the content of his classes, examined the cartoons on his door. "They cast the Venezuelan community as a threat," says Tinker-Salas. "I think they were fishing to see if I had any information they could use."
Pomona's president, David Oxtoby, says he was "extremely concerned about the chilling effect this kind of intrusive government interest could have on free scholarly and political discourse."
Last year, some students at the Department of Middle Eastern and Asian Languages and Cultures at Columbia University ran a campaign against alleged anti-Israeli bias among professors, criticising the university as a place where pro-Israeli students were intimidated and faculty members were prejudiced. A faculty committee appointed by Columbia concluded that there had been no serious misconduct.
These issues are not confined to university campuses: it is also happening in schools. Since February, the normally sleepy, wealthy district of Upper St Clair in Pennsylvania has been riven with arguments over its curriculum after the local school board banned the International Baccalaureate (IB), the global educational programme, for being an "un-American" marxist and anti-Christian. During their election campaign, the Republicans of Upper St Clair referred to the IB, which is offered in 122 countries and whose student intake has risen by 73% worldwide in the past five years, as though it was part of an international communist conspiracy, suspicious of a curriculum that had been "developed in a foreign country" (Switzerland). "Our country was founded on Judeo-Christian values and we have to be careful about what values our children are taught," said one Republican board member. Similar campaigns have also sprung up recently at school boards in Minnesota and Virginia.
Meanwhile, in January in Aurora, Colorado, social studies teacher Jay Bennish answered questions in his world geography class about President George Bush's speech from his students at Overland High School. Caricaturing Bush's speech, Bennish said, "'It's our duty as Americans to use the military to go out into the world and make the world like us.'" He then continued: "Sounds a lot like the things Adolf Hitler used to say: 'We're the only ones who are right, everyone else is backwards and it's our job to conquer the world and make sure they all live just like we want them to.' Now I'm not saying that Bush and Hitler are exactly the same. Obviously they're not, OK? But there are some eerie similarities to the tones they use."
Unbeknown to him, one 16-year-old student, Sean Allen, recorded part of the class on his MP3 player. When his Republican father heard it he was so incensed that he shopped it around to local conservative radio stations, where it finally found a home with radio talk-show host Mike Rosen.
Later in Bennish's class, the teacher had told his students, "I am not in any way implying that you should agree with me. I don't even know if I'm necessarily taking a position. But what I'm trying to get you to do is to think, all right, about these issues more in depth, and not just take things from the surface. And I'm glad you asked all your questions because they're all very good, legitimate questions." Rosen only played the first part of the tape on his programme. He also put it on the internet.
The next day, the Cherry Creek school district suspended Bennish, arguing that he had at least breached a policy requiring teachers to be "as objective as possible and to present fairly the several sides of an issue" when dealing with religious, political, economic or social issues.
The suspension sparked rival demonstrations at school. Hundreds of students staged a walkout, a few wearing duct tape over their mouths while some chanted, "Freedom of speech, let him teach." A smaller demonstration was staged against Bennish, with students writing "Teach don't preach" on their shirts.
But it has primarily been universities that have been on the frontline. And on the other side of the trenches has been the rightwing firebrand David Horowitz. Horowitz, who had Jones on his payroll but fired him after the taping controversy, was raised by communist parents and was himself a marxist as a teenager. He is involved with Campus Watch, Jihad Watch, Professors Watch and Media Watch; he was also connected to discoverthenetworks.org, which targeted Gilroy. A few years ago he founded a group, Students for Academic Freedom, which boasts chapters promoting his agenda on more than 150 campuses. The movement monitors slights or insults that students say they have suffered and provides an online complaint form. Students are advised to write down "the date, class and name of the professor", get witnesses, "accumulate a list of incidents or quotes", and lodge a complaint. Over the past three years Horowitz has led the call for an academic bill of rights in several states. The bills would allow students to opt out of any part of a course they felt was "personally offensive" and force American universities to adopt quotas for conservative professors as well as monitor the political inclinations of their staff.
The bill has been debated in 23 states, including six this year. In July, Pennsylvania approved legislation calling on 14 state-affiliated colleges to free their campuses from the "imposition of ideological orthodoxy". Meanwhile, House Republicans have included a provision in the Higher Education Act which calls on publicly funded colleges to ensure a diversity of ideas in class - code for countering the alleged liberal bias in classrooms.
"The aim of the movement isn't really to achieve legislation," says Horowitz. "It's supposed to act as a cattle prod, to make legislators and universities aware. The ratio of leftwing professors in Berkeley and Stanford is seven to one and nine to one. You can't get hired if you're a conservative in American universities."
Reliable empirical, as opposed to anecdotal, evidence to back up Horowitz's claim of political imbalance is patchy but rarely contested. The most detailed study, conducted by California economist Daniel Klein and Swedish scientist Charlotta Stern, did reveal a significant Democratic bias which varied depending on the course they taught. It showed that 30 times as many anthropologists and sociologists voted Democrat as Republican, while for those teaching economics the ration plummeted to three to one.
But these results gave only a partial account of campus life. Limiting their research to the social sciences and the humanities excluded a substantial portion of the university experience. According to the Princeton Review, four of the top 10 most popular subjects - business administration and management, biology, nursing and computer science - are not in the social sciences or humanities. Republicans are probably more inclined to find a home in some of these disciplines. In any case, most academics do not deny that there is a progressive, liberal bias in academe. "Of course," says Todd Gitlin, a professor of journalism and sociology at the Columbia School of Journalism. "There's a lot of conservatives in oil. But there aren't a lot of conservatives planning on studying sociology."
And while liberals may be more numerous, argues Schrecker, a professor of history at Yeshiva University in New York, that does not necessarily mean they are more powerful. "Progressive academe is like the ninth ward of New Orleans before the levees break - neither secure nor particularly safe. It's one of the few areas left with some kind of progressive culture."
That, rather than protection of free expression on campus, is precisely why it remains a target for the right, they say.
In February, Horowitz published a book, The Professors: the 101 Most Dangerous Academics in America, in which he lists, in alphabetical order, the radical academics whom he believes are polluting academe with leftwing propaganda. "Coming to a campus near you: terrorists, racists, and communists - you know them as The Professors," reads the blurb on the jacket. "Today's radical academics aren't the exception - they're legion. And far from being harmless, they spew violent anti-Americanism, preach anti-semitism and cheer on the killing of American soldiers and civilians - all the while collecting tax dollars and tuition fees to indoctrinate our children."
The book is a sloppy series of character assassinations, relying more heavily on insinuation, inference, suggestion and association than it does on fact. Take Todd Gitlin, a journalism and sociology professor at Columbia University. Gitlin was the leader of Students for Democratic Society, a radical anti-war movement in the 60s. Today, his politics could be described as mainstream liberal. He supported the war in Afghanistan but not in Iraq and hung out the Stars and Stripes after the terrorist attacks on September 11. He has recently written a book, The Intellectuals and the Flag, calling for progressives to embrace a patriotic culture that distinguishes between allegiance to one's country, which he supports, and loyalty to one's government, which he does not.
None the less, Horowitz slams him for participating in an anti-war teach-in in March 2003 at which his colleague Nicholas de Genova called for "a million Mogadishus" to be visited on American soldiers in Iraq - referring to the murder of US military in Somalia. But Gitlin has never met or spoken to Genova and was not participating in the teach-in when Genova spoke. Horowitz also slates Gitlin for "immersing students in the obscurantist texts of leftists icons like Jürgen Habermas", but omits to mention that Gitlin also teaches from the works of Plato, Aristotle, Aquinas, Hobbes, Locke, Burke, Adam Smith and the gospels.
"Horowitz's idea of research is cherry-picking," says Gitlin. "And he can't even be trusted to find cherries. He comes up with bitter prunes."
Victor Navasky, the Delacorte professor of journalism at Columbia University, is also on Horowitz's hit list. Navasky, publisher emeritus of the leftwing magazine The Nation and chairman of the Columbia Journalism Review, is accused of "bankrolling" the review and denounced for organising lectures by "prominent leftists" such as Michael Tomasky of American Prospect and Hendrik Hertzberg of the New Yorker. Navasky points out that he has also hosted a lecture by Fox news anchor Bill O'Reilly and the editor of the rightwing Weekly Standard at Columbia, and that the only cheque he ever sent the Review was one he returned after the magazine paid him for an article.
"Were it not for all the inaccuracies I would say that I would be flattered to be on the list, but I don't think I earned it," says Navasky. "I don't think anyone seriously considers me a clear and present danger to the republic."
Horowitz accuses those who accuse him of McCarthyism of being McCarthyites themselves. "All they do is tar and feather me with slanders," he says. "It's the politics of Stalinism."
Evidence to back up his central argument - that these political leanings are at all related to a teacher's ability to be fair, balanced or competent in class - are non-existent. Most of the criticisms of lecturers on both the Dirty 30 list and in Horowitz's book are levelled at comments professors have made outside the classroom and rarely do they provide any evidence of the accused actually criticising or ridiculing students with rightwing ideas.
Nobody denies that bad leftwing lecturers exist. As Russell Jacoby argued in The Nation, "Higher education in America is a vast enterprise boasting roughly a million professors. A certain portion of these teachers are incompetents and frauds; some are rabid patriots and fundamentalists - and some are ham-fisted leftists. All should be upbraided if they violate scholarly or teaching norms. At the same time, a certain portion of the 15 million students they teach are fanatics and crusaders." It is not their work as professors Horowitz does not like; it is the ideologies they espouse, whether in or outside the classroom.
Political assaults on intellectuals are not new. Nor are they specific to the US. At the dawn of western civilisation, Socrates was executed for filling "young people's heads with the wrong ideas". Mao targeted professors for particular humiliation during the cultural revolution.
Mark Smith, the director of government relations for the professor's union, the American Association of University Professors, says that these broadsides vary according to the political climate. Shortly after world war one, the litmus test was those who opposed America's participation in the war or backed the fledgling Russian revolution; during the 50s, it was communists; during the 80s, it was leftwing professors in Latin American studies departments. During the early 90s, Lynne Cheney, the wife of the current vice-president, was chair of the National Endowment for the Humanities, when she lead the bureaucratic charge against "political correctness". In many humanities faculties, she claimed, the common thinking is that "there is no truth. Everything we think is true is shaped by political interests ... Since there is no truth ... faculty members are perfectly justified in using the classroom to advance political agendas."
"These things go in cycles," says Smith. "Horowitz did not invent this. He's capitalising on an ongoing anti-intellectualism and fear of the other."
Many believe that this current cycle has intensified as a result of the official response to 9/11. Two months after the terrorist attacks, the conservative American Council of Trustees and Alumni (ACTA), founded by Lynne Cheney in 1995, branded colleges and universities the "weak link in America's response" to the terrorist attacks and called on lecturers and professors to defend western civilisation. In a report entitled Defending Civilization: how our universities are failing America and what can be done about it, ACTA president Jerry Martin and vice-president Anne D Neal, wrote: "While faculty should be passionately defended in their right to academic freedom, that does not exempt them from criticism. The fact is: academe is the only section of American society that is distinctly divided in its response to the attacks on America."
Regardless of their accuracy, integrity and provenance, some believe that these assaults do have an effect. "There is a cunning behind the battyness," says Gitlin. "It's not just the self-aggrandisement. It's an assault on one of the few social enclaves that the right doesn't control. There is a scattershot bellicosity whether the fortunes of the political right are up or down. They find it useful for fundraising if nothing else."
Others argue that while the individual accounts are troubling, their ultimate effect on academe can be exaggerated. The response to the recent article in the London Review of Books by two prominent American professors arguing that the pro-Israel lobby exerts a dominant and damaging influence on US foreign policy may be a case in point. Stephen Walt and John Mearsheimer have been accused of being anti-semites and bigots, prompting accusations of a McCarthyite witch-hunt. Shortly after publication, it was announced that one of the authors, Walt, was stepping down from his job as academic dean at Harvard's Kennedy School of Government and the school removed the piece from the front page of its website. But the Kennedy School and Walt's colleagues said that the move had long been planned. Meanwhile, the school explained the website change thus: "The only purpose of that removal was to end public confusion; it was not intended, contrary to some interpretations, to send any signal that the school was also 'distancing' itself from one of its senior professors."
"The University of Chicago and Harvard University have behaved admirably in difficult circumstances. We have had the full support of our respective institutions," Mearsheimer said. So all that is left are the accusations which, given the nature of the original article, not even the authors say surprised them. People have a right to be offended. It is when that offence is either based on flawed information or mobilised into an institutional or legislative clampdown that accusations of a witch-hunt truly come into play.
"Clearly these things are disturbing," says Jon Wiener, professor of history at UCLA. "But I don't think they are happening because students are demanding it. The Bruin Alumni Association [turned out] to be one ambitious, well-funded guy. There are some frightening moments, but then things seem to return to normal."
"It's not even clear this is much other than the ill-considered action of a handful, if that, of individuals," says DuBois.
But however many people are involved, the attacks do make a difference, claims Gilroy. "Of course it has an effect," he says. "There's a pre-written script you have to follow and if you chose not to follow it, then there are consequences, so you become very self-conscious about what you say. To call it self-censorship is much too crude. But everybody is looking over their shoulder".
by Grand Moff Texan
First it was Christmas trees. Liberals were after your Christmas trees. Then it was Christians themselves. There's a war on Christians, Crackerstan was told.
Apparently, that wasn't scary enough.
So now, the message is that scientists want to pretty much murder us all. Stop right there: any transmission to Crackerstan about "scientists" is going to be even more full of shit than usual.

Creationists don't do science. That's pretty much by definition. When a creationist wants to talk to me about science, I usually say something along the lines of "fuck your big-haired mother, hayseed," because the exchange is a waste of my time and I know this asshole isn't going to be honest.
So now that drooling superstitious freaks all over the country are talking about Dr. Eric Pianka, the first thing to wonder is not, "what is the issue," because they don't know what the issue is and they don't care. They've been sent to do their usual hooting and feces throwing and they have no idea why. They're incapable of setting this in motion. It's more an issue of "who's pulling their chain?"
What are drooling superstitious freaks good for? I dunno, ask the right. They're always using them.
It all started when one ignorant fucking creationist told a bunch of other ignorant fucking creationists that Dr. Eric Pianka of the University of Texas had advocated killing off 90% of the world's population with a strain of Ebola that doesn't even exist, and that other scientists stood up and cheered. They bought it. Of course they bought it. They're a bunch of ignorant fucking creationists. Buying implausible crap is what they do all day.
DEATH BY EBOLA?: Let's change that nickname from "The Lizard Man" to "Dr. Doom."

Noted evolutionary ecologist and lizard fanatic Eric Pianka, a one-time Fulbright scholar and Guggenheim fellow recognized with this year's Texas Academy of Science distinguished scientist award, is apparently advocating a swift and harsh solution to the population bomb and diminishing natural resources.

As fellow academy member Forrest Mims III reports in The Citizen Scientist, professor Pianka talked about the need to wipe out most of the human race in his award speech to the 109th annual academy conference last month at Lamar University in Beaumont, Texas.

"I watched in amazement," Mims reports, "as a few hundred members of the Texas Academy of Science rose to their feet and gave a standing ovation to a speech that enthusiastically advocated the elimination of 90 percent of Earth's population by airborne Ebola (virus)."

Mims, a best-selling author of electronics books and one-time Scientific American columnist later fired for his creationist views, claims that Pianka put on a slideshow of the Four Horsemen of the Apocalypse and explaining -- if, indeed, one were to attempt a near wipeout of the human race -- that disease, war and famine would not kill the population as efficiently as Ebola.

"When Pianka finished his remarks," Mims conceded in disgust, "the audience applauded. It wasn't merely a smattering of polite clapping that audiences diplomatically reserve for poor or boring speakers. It was a loud, vigorous and enthusiastic applause."
I'm not prepared to take a word of this seriously for the same reason I don't trust a creationist to find his ass with both hands. He's a drooling superstitious freak. Fuck him, I don't care what he says. But Calvin Liu reprinted the whole thing without talking to Pianka and now other scientists are getting death-threats. If you want to ask Mr. Liu just what the fuck he was thinking, you can reach him c/o the Times,
P.O. Box 8099
Walnut Creek, CA 94596-8099.
Or you can call him at 925-943-8262, fax 925-943-8265, or e-mail him.
You might ask him why the allegation that dozens of scientists got up and cheered about genocide didn't give Mr. Liu pause. How plausible is that?
Of course, it isn't plausible at all, but that doesn't matter to a drooling superstitious freak. They bought it, the whole thing, and are now attacking not just Dr. Pianka himself, but are randomly seeking out and harrassing (and threatening) other scientists from the Texas Academy of Science.
Pharyngula reprinted one of the volunteer brownshirt's letters. It provides yummy deep structure on just how the olfactoral bulb of the common drooling superstitious freak manages to simulate some of the functions of an actual human brain. Put on your pith-helmet and have yourself a little Jane Goodall moment, 'cause we're venturing into darkest Crackerstan:
While Heinrich Himmler's "final solution" was limited to exterminating the Jews, Dr. Eric R. Pianka promotes a FINAL SOLUTION for 90% of earth's population. In accepting the 2006 Distinguished Texas Scientist award, Heir [sic] Pianka was interrupted with applause and received a standing ovation.

"Soylent Green is people." And the way cinema's futurist society dealt with over population was through the "Renewal Ceremony", where the inductees were secretly turned into FOOD for the remaining citizens.

AT LEAST THEY WERE TURNED INTO FOOD! Unleashing the Ebola virus on humanity, as publicly advocated by reptilian advocate [sic] Dr. Pianka, would result in billions of excruciating deaths and rotting corpses in the streets. Does such a position increase the esteem of the Texas Academy of Science? Is the Academy deem such a colleague as a visionary, exemplar, & eloquent

THIS IS AN OUTRAGE! For a scientific community, however provincial, to recognize Dr. Pianka sublimates wholesale genocide. His advocacy of the extermination of most human life on the earth flies in the face of natural selection, and is so patently absurd as to defy logical challenge. The Texas Academy of Science, her directors, fellows, and members, is DIMINISHED through close association with, and its elevation of, Dr. Eric R. Pianka.

If the Academy is to maintain public and professional credibility, it must censure Dr. Pianka and rescind his "Distinguished" status. Please use your personal and professional influence toward that immediate end.

Sincerely,

Keith M. Arnett

Keller, TX
Mr. Arnett apparently learned about the Third Reich from the History Channel, or perhaps by word of mouth, judging by his phonetic spelling of German. After falling afoul of Godwin, he then cites the hard scientific fact of science fiction. I'm guessing Mr. Arnett spends an awful lot of time in front of the Tee-Vee.
You can reach Mr. Keith M Arnett, at (817) 379-0034
Or you could send him a nice letter at:
Drooling Superstitious Freak
311 Eastwood Dr.
Keller, TX 76248
Of course, a lie gets halfway around the world before the truth can get its shoes on.
"If we don't control our population, microbes will. Why do we have these lethal microbes that kill us in the first place? The answer is, there's too many of us," Pianka said.

Pianka says he would never advocate genocide or extermination like some suggest he does.

"I've got two granddaughters, man. I'm putting money in a college fund for my granddaughters. I'm worried about them," Pianka said.

He said he believes criticism of his theory about an inevitable plague on mankind comes from a rival jealous about his distinguished scientist award from the Texas Academy of Science.

"He's an avowed enemy, and he's made this very clear that he's going to get me and take me down," Pianka said.

...

We tried to contact the guy Pianka says is behind this smear campaign. He did not get back to us.
Well of course not, what do you expect? They only attack in swarms. One on one they're both gutless and stupid.
On the right, that's considered a strength. Stupid people are useful. Stupid people who are easily threatened are even more useful.
Of course any thinking person can see that ... wait for it!
But Eric Pianka said Monday his remarks about what he believes is an impending pandemic were taken out of context.

"What we really need to do is start thinking about controlling our population before it's too late," he said. "It's already too late, but we're not even thinking about it. We're just mindlessly rushing ahead breeding our brains out."

The public furor began when The Gazette-Enterprise of Seguin, Texas, reported Sunday on two speeches Pianka made last month to groups of scientists and students about vanishing animal habitats and the explosion of the human population.

...

The Gazette-Enterprise quoted Pianka as saying disease "will control the scourge of humanity. We're looking forward to a huge collapse."

Pianka said he was only trying to warn his audience that disease epidemics have happened before and will happen again if the human population growth isn't contained.
Yeah, I got that. I didn't need an explanation. The thirteenth century was looking forward to a huge collapse, too. They weren't ready for it. What Pianka is talking about has happened before, but drooling superstitious freaks don't do history, either.
What they do do is strawmen:
But Mims, chairman of the academy's environmental science section, told The Associated Press there was no mistaking Pianka's disdain for humans and desire for their elimination.

"He wishes for it. He hopes for it. He laughs about it. He jokes about it," Mims said. "It's got to happen because we are the scourge of humanity."
Ignorant fucking creationists can read minds, apparently. Mims needs his imaginary Pianka. It's the whole reason for Mims' miserable existence.
Much of this crap is being flung by the underevolved simians at The Discovery Institute, where they advocate teaching ignorance on a daily basis. Dembski, of same, reported Pianka to Homeland Security. I shit you not.
And then there are the freelance drooling superstitious freaks:
Dr. Tony Beam
Pastor, Conference speaker, Professor, Talk Show Host, and Columnist
Monday, April 3, 2006

Pianka goes on to say, we are turning the planet into a "fat, human biomass." He giddily proclaims that, "Disease will control the scourge of humanity." He is actually looking forward to the day when a huge collapse of human life comes to pass because of some bio-bug that has morphed out of control. Pianka believes the human race suffers from anthropocentrism, which is the belief that humans are the central element of the universe.

As far as Pianka is concerned a human life is no more valuable than a lizard, a bison, or a rhino. But not to worry, Pianka has discovered the perfect plan to rid the earth of the infection of humanity. He openly suggests that the Ebola virus (specifically Ebola Zaire) is the answer to the humanity problem. The virus currently kills 9 out of every 10 people who are unfortunate (or fortunate if you follow Pianka' thinking) enough to come in contact with infected blood. But while most scientists are spending their time trying to find a way to counter the bird flu virus should it ever transform into a strain that can survive in the air, Dr. Pianka is longing for the day the Ebola Zaire virus will overcome through evolution its own airborne limitations. In his presentations to his classes, Pianka shows slides of the Four Horsemen of the apocalypse and human skulls. He jokes about requiring universal sterilization and chuckles about how the Ebola virus will one day take care of the humanity problem.

You would think someone this radical would be scorned, his ideas condemned, and his position in jeopardy. But this is the world of the looney left where ideas about human genocide are as welcome as a Barbara Streisand fund raiser. In fact, Dr. Pianka received a standing ovation at the end of his presentation from his class and The Texas Academy of Science decided to reward his work toward the destruction of humanity with its Distinguished Scientist award. In addition, Dr. Robert K. Jansen, who serves as chairman of the integrated biology department where Dr. Pianka teaches said he saw no cause for concern over the doomsday material. Jansen went on to day, "To hold a classrooms attention educators must often speak their mind in a fashion bold enough to garner a bit of shock."

A bit of shock? That is how the chairman of the integrated biology department at a major U.S. university describes advocating the death of 5.6 billion people? What Ward Churchill is to the political realm and Peter Singer is the ethical realm, Eric Pianka is to the scientific realm. All of these far left thinkers has something in common....they have no regard for the value of human life.

For Ward Churchill, people who fly airplanes into buildings loaded with innocent men and woman are heroes because he sees a moral equivalency between just war and terrorist acts.
Yes, that's right. This dumb cracker just played the Ward Churchill card. If you feel like laughing in the drooling superstitious freak's face, you can reach him
here
.
Why is Pianka being called a "liberal"? Well, when you're a drooling superstitious freak, I guess all scientists are "liberals" to you. They only call people "liberals" when they have nothing intelligent to say. For drooling superstitious freaks, of course, that's every day of the year. Yes, this "exposes the loony left" in that it shows how easy it is to use a bunch of drooling superstitious freaks to do just about anything so long as you scare 'em good enough.
In reality, Eric Pianka is a conservative, he just also happens to be a scientist which means that he's not on the drooling superstitious freaks' talking points of the day. He has to be made into a "liberal" because what he supposedly said could only be "liberal," if you're a drooling superstitious freak, but in fact both the ideological subscription and the speech itself are made up. Living in a fantasy world where Gawd made all duh prettie fower-fowers makes this kind of ignorant shit easy to do.
The right is so hardwired into the deadend Darwin deniers, the Christian Reconstructionists, and other head-in-the-sand know nothings that they have isolated themselves from people who think for a living. All science is wrong. The right knows this 'cause they found the face of Jesus in a burned tortilla.
What other developed nation has to drag along this kind of dead weight? Can't this country just take a big, healthy shit and be rid of them?
One of the ignorant creationist's friends passes this crap on without examination or thought, which is odd since his blog features a T-Shirt that says "THINK!" on it. Apparently thinking is just for T-Shirts, if you're a drooling superstitious freak.
This is just like the phony "War on Chist-mas/ians" crap. Crackerstan is useful to the right and the right has an awful lot of news to distract Crackerstan from, so they have to tell Crackerstan that they're under attack. There's nothing left of the right except a convulsive twitch and the people who know how to use it. One feeble little man's vendetta and every monkey on the right is flinging feces and hooting ...
... on cue.
Early morning, April 4, A Shot Rings Out In the Memphis Sky...
Early morning, April 4
a Shot rings out in the Memphis sky
Free at last, they took your life
They could not take your pride
In the name of love
One more in the name of love
In the name of love
What more in the name of love?
April 4, 1968.
Monday, April 03, 2006
by
Duke1676
Mon Apr 03, 2006 at 12:53:50 PM PDT
In order to truly understand all the nuances and complexities of the current immigration debate it would seem that one would need to have a working knowledge of the current immigration laws, the economic ramifications of immigration both legal and illegal, and be familiar with the foreign policy and trade agreements that effect the countries of origin of the current crop of undocumented immigrants.
Or maybe you would just have to understand how Republicans play political hardball, how the Rovian reptilian mind works and to what extremes they are willing go to stay in power.
On November 3, 2004 , the day after eleven states had run referendums on their ballots to ban gay marriage, the right-wing powers that be must have felt pretty good about themselves. They had successfully taken what should have been a non-issue, and turned it into a referendum on "moral decay", "family values" and the "destruction of the family". They had fabricated an issue they could put before close to one fifth the electorate and be assured it would bring out an army of the faithful to pull the lever for a Republican candidate who would protect them from those pushing "the gay agenda" and ruining America with their "out of touch", liberal, Hollywood ideology.
The pundits analyzed the election ad nauseam and for weeks all we heard about were "values voters" and how liberals just didn't "get it". It was a diabolically brilliant plan. For many there was no need to debate about war, a failing economy, deficits, Presidential lies or overreach, no reason to talk about missing WMDs, or insurgencies; instead, it was an election about whether two people of the same sex should be afforded the right to marry.
The plan did what it was supposed to do... it brought out the "base." The Republicans had pulled off a cheap magician's parlor trick and misdirected many from the important issues and instead had them concentrate on something that for the most part had no effect on their daily lives.
Now though, the Republicans were faced with a problem. What could possibly be the follow-up to such a successful act, how could they craft a sequel to top it? They had already played the fear card with their "keeping you safe from terrorism" and "everything changed on 9-11" rhetoric, and now the "values" card had been played also. It looked like the Republican deck was getting slim. But, au contraire...when all else fails in the Republican playbook ...the answer is to return to your roots and go back to the tried and true, the one thing that always works....Willie Horton....or in this case Juan Hortona.
The answer they came up with was the not so subtle mix of race, fear, xenophobic populism and the backlash to a bad economy and globalization that now constitutes "The immigration debate". They would put together a coalition of old school racists, economically marginalized middle and working-class Americans who have been left behind in the new "flat world" economy of outsourcing and globalization, those most effected by the destruction of the US manufacturing base and those who have suffered most from the conservatives conscious effort to shift wealth from the middle to upper classes and then present them with a new enemy on which to channel their discontent. In other words a classic wedge issue.
Who's behind the immigration issue
To understand the way this plan is now playing out one need only take a quick look at two recently released studies that show how this dynamic is playing out and just how those least effected by the "broken borders" and increased flow of undocumented immigrants are the very people leading the charge to close them.
A new analysis of Congressional voting patterns by The American Immigration Law Foundation shows that those representing districts least likely affected by the influx of undocumented immigrants are the first to champion restrictive immigration policies.
An analysis of the Congressional representatives who supported the draconian House enforcement only bill,HR 4437 reveals that those representing districts with the fewest number undocumented immigrants generally supported the restrictive immigration plan, while those with large numbers of undocumented immigrants in their districts were more apt to oppose it.
Representatives From Districts With Fewer Than 5,000 Undocumented Immigrants Were Most Likely To Support The Bill


There are 96 congressional districts that have fewer than 5,000 undocumented immigrants. Most of these districts are largely rural and located in sections of Appalachia, the Midwest, and the Mississippi Valley that are experiencing little economic growth and low levels of immigration in general. Constituents in many of these districts face tough economic times, but the cause is not immigration. Immigrants are attracted to regions of economic dynamism and job expansion. This is why greater numbers of undocumented immigrants are found in western states that have agricultural, livestock, fishing, and tourist economies that need the kinds of less-skilled labor that undocumented immigrants often provide.

Undocumented immigrants in the 96 lowest-immigration districts make up no more than 0.8 percent of the population (each of the 435 congressional districts has roughly the same total population: about 650,000 as of 20001). The votes on H.R. 4437 in these districts tell you something about immigration politics in the United States today. The supposed threat from undocumented immigration is enough to rally voters and move levers of power even in areas where the actual impact is miniscule. Among representatives from districts with the smallest populations of undocumented immigrants, 74 percent (71 out of 96) voted for the bill: 90 percent of Republicans (56 out of 62) and 44 percent of Democrats (15 out of 34)

Representatives From Districts With More Than 50,000 Undocumented Immigrants Were Most Likely To Oppose The Bill

The voting pattern of the representatives from the 61 congressional districts with 50,000 or more undocumented immigrants tells a different story. These districts for the most part are located in densely populated urban areas such as New York City, Chicago, and Los Angeles, and are relatively small in geographic size compared to rural districts that include many counties. In these high-immigration districts, the undocumented alone can account for as much as one-fifth of the total population. As a result, representatives who hail from these areas are familiar with undocumented immigrants and their impact on local communities. Among representatives from districts with the largest populations of undocumented immigrants, a mere 5 percent (3 out of 61) supported the bill: none of the 53 Democrats and only 3 of the 8 Republicans.

The inverse relationship between support for H.R. 4437 and the actual presence of undocumented immigrants in a representative's district represents a widespread voting pattern. Among all Democrats, those who voted in favor of the bill had roughly 10,000 undocumented immigrants in their districts. Democrats who opposed the bill, on the other hand, had about 37,400. Among all Republicans, the same pattern holds: those voting for H.R. 4437 had an average of 14,500 undocumented immigrants in their districts, while those who voted against the bill had an average of 30,800
Overall 67% of all those who supported the bill from both parties came from districts with fewer than 15,000 undocumented immigrants while 62% of those opposed came from districts with more than 15,000.
Voters proximity to immigrants effects perceptions and attitudes
A new report released last week by the Pew Research Center entitled "America's Immigration Quandary" reveals what common sense would lead us to assume: Those with the least contact with immigrants have the most negative opinions about them and feel they are a threat to the American way of life.
The survey finds a complex relationship between exposure to immigrants and opinions about them and the immigration problem, more generally. People who live in areas that have high concentrations of immigrants are less likely to see them as a burden to society and a threat to traditional American customs and values. However, they are more apt than others to see immigration as an important problem for their local community.
In sharp contrast, native-born Americans who live in areas with few immigrants understandably are less inclined to see immigration as a local problem. However, many more of those in areas with relatively low concentrations of foreign-born people see immigrants as a burden to the nation and as a threat to American customs. People living in areas with few immigrants have a considerably more negative opinion of Hispanics and a slightly more negative view of Asians.
-snip-
Moreover, native-born Americans who live in areas with the highest concentration of immigrants hold more positive opinions of them. Analysis of the survey indicates that their more favorable views do not merely reflect their demographics or political composition, but suggests that exposure to and experience with immigrants results in a better impression of them. However, Americans living in areas with more immigrants rank immigration as a bigger community problem.
And while there is concern about the impact of immigration on the availability of jobs, nearly two-thirds (65%) say that immigrants coming to the country mostly take jobs that Americans do not want, rather than take jobs away from Americans. In this regard, the recent influx of immigrants into such metropolitan areas as Phoenix, Las Vegas and Raleigh-Durham has not undermined the generally positive perceptions residents have of the local job market.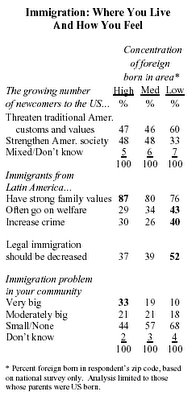 The most telling statistic was how important most Americans viewed the issue. While 21% said immigration had an effect on their community only 4% viewed it as a major problem facing the country.

In general, however, the issue of immigration is not a top-tier problem for most Americans. Just 4% volunteer it as the most important problem facing the country, far fewer than the number mentioning the war in Iraq, dissatisfaction with the government, terrorism, and several other issues

What we appear to have with the "immigration debate" is an issue that most Americans don't find very important, being moved to the front of the political agenda by politicians from areas least effected by immigrants and representing a constituency that although they have little practical reason for concern, feel that immigrants somehow threaten their way of life. Or as we like to say a classic Republican wedge issue of misdirection.
The BIG picture, we're all being played
There are many who will offer up anecdotal evidence about their cousin who lost his job hanging drywall at $20 an hour because immigrants work far cheaper, or their brother who can't find an IT job because the market is flooded with foreigners with H-1b visas. I would not argue that in some cases the failures of US immigration policy have had an adverse effect on some sectors of the native workforce, particularly those from the most vulnerable segments of the population, those with the lowest educational levels, from minority communities and from in areas of economic depression due to the loss of manufacturing jobs. Others will tell stories of how they waited in a hospital emergency room for hours when their child broke a finger at a softball game because the staff was overwhelmed with a mass of humanity looking for treatment of common illnesses. Again I won't argue.. the healthcare system in this nation is a mess and yes undocumented immigrants only add to the 45 mil uninsured Americans who are forced to use our nations emergency rooms as their primary source of medical care.
But ... I would put forward this test for all those who favor the "tough" approach to immigration reform favored by Tom Tancredo and Jim Sensenbrenner.... If all the undocumented immigrants in the nation were to leave tomorrow, all 12 million of them, would this solve ANY of this nations most basic economic and social problems.



Would it bring back the millions of good paying jobs that have been outsourced overseas?


Would it mean that quintessential US companies like GM would not be laying off thousands of workers and closing plants?


Would it balance a federal budget that now is so far into the red that we can't even keep up with the interest payments on the debt?


Would it reverse a trade deficit that sends billions of dollars every year into foreign coffers?


Would it change a tax code that has systematically moved the wealth of this nation out of the hands of the middle class and into the hands of the top 1% of the population?


Would it fix an education system that is being under funded and dismantled piece by piece in order to set up a two tier system with public education for the poor and middle class and private education for the wealthy?


Would it end an aggressive foreign policy that costs trillions of dollars and countless lives each year?


Would it fix a healthcare system that leaves millions uninsured, that is underwritten by lobbyists from the big pharmaceutical and the insurance companies?


Would it end a political system whereby our representatives no longer care about the needs of their constituents but rather spend their careers as spokesmen for business interests?
WOULD IT FIX ALL THE DAMAGED REPUBLICAN CONTROL HAS WROUGHT ON MIDDLE AND WORKING CLASS AMERICANS?.....of course not . .. that in essence is the whole point of the immigration issue... to keep the American people fighting against imaginary adversaries in order that they don't start to address the real problems that effect them ...Literally the elephants in the room.