Elana Schor in Washington
Wednesday October 29 2008 14.54 GMT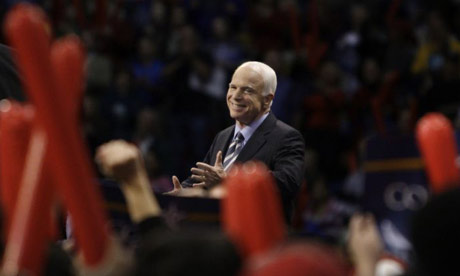 John McCain is in danger of suffering an embarrassing loss in his home state of Arizona, according to a shock new poll released today.
Democrats are seizing upon the results of today's Arizona State University poll, which found McCain on 46% and Obama on 44%, to depict the Republican as struggling to hang on to even his faithful backers.
McCain held a 7% lead over Obama in Arizona just one month ago and a double-digit polling advantage earlier this year. Although the state McCain has represented in Congress for 26 years has slightly more registered Republican voters than Democrats, today's poll gave Obama a 20% lead with Arizona independent voters.
Only three presidential candidates in US history have won an election while losing their state of residence. The loss of a home state became an especially harsh political prospect after Al Gore lost Tennessee in 2000, prompting public hand wringing over what might have been.
Republican spokesman Jeff Sadosky defended the candidate's prospects in a statement to Politico.com. "John McCain has never lost an election in Arizona, and this one will be no different, regardless of Obama's attempt to buy the election with millions of dollars in advertising," Sadosky said.
Yet even McCain's fellow Arizona senator and close ally, Jon Kyl, offered a subtly dire prediction in a Sunday interview with one of the state's local newspapers.
Asked whether Arizona, long known for its conservative ethos, could become a swing state as new residents change its demographics, Kyl foreshadowed a McCain defeat.

"[U]nfortunately, I think John McCain might be added to that long list of Arizonans who ran for president but never were elected … Maybe we'll be able to say, Arizona's the only state where your child can't grow up to be president," Kyl told the Daily Star.
Kyl closed by adding: "So let's hope that doesn't happen." But the caveat did not stop Democrats from circulating the critical quote, which Kyl later claimed was taken out of context.
Today's poll is a departure from the recent average of Arizona surveys, which finds McCain with a lead of more than 6%. Obama's advantage in his home state of Illinois has reached as high as 25%, according to the most recent polls.